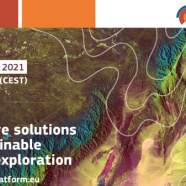 Sep

14
Tags
Related Posts
Sustainable mineral exploration and secure raw materials supply for the EU and Latin America regions: the MDNP 2 webinar series
Mineral exploration plays a key role in ensuring a secure raw materials supply in the EU and Latin American countries. However, exploration must be aligned to local conditions and international trends in order to be more sustainable in the long-term period. For this reason, it is crucial to foster innovative solutions and practices improving and securing access to raw materials, in line with social and environmental standards.
In this context, the EU-Latin America Partnership on Raw Materials (MDNP 2) project is hosting a free business-oriented webinar series showcasing examples and good practices of innovation from the field of mineral exploration, as a prerequisite for the integration of sustainable raw material value chains between the EU and Latin America.
During the webinars, EU and Latin American experts will share their analysis and best practices, as key items for boosting responsible and sustainable non-energy extractive industries in both regions. The webinars will address MDNP members and stakeholders who wnat to gain insights on the progresses of both regions in driving responsible mining and building sustainable and resilient mineral raw materials value chains.
All webinars will be translated simultaneously and offer English, Spanish and Portuguese audio channels. In order to get more information on the webinars, please check the dedicated page.