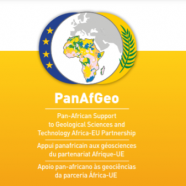 Aug

02
Tags
Related Posts
PanAfGeo: The Second Phase Begins!
PanAfGeo, an EU co-funded initiative that began in 2016, contributed to the transfer of knowledge between European and African Geological Surveys. PanAfGeo also ensured the institutional strengthening of many African national administrations in charge of geology and mining.
Starting from the project's past achievements, the phase two of the project will build on a consortium of 11 European Geological Surveys, including the the umbrella organization of the Geological Surveys of Europe, EuroGeoSurveys, and will be lead by BRGM, the Geological Survey of France.
PanAfGeo-2 will aim at developing a set of knowledge and best practices exchange programmes for African geoscientists to acquire the state-of-the-art tools and learn new methods and skills in several geoscientific competences:
Geoscientific Mapping
Mineral Resources Assessment
Artisanal & Small-Scale Mining
Geoheritage & Geothermal energy
Geohazards & Environmental Management of Mines
Georesources Governance & OAGS/GSOs Institutional Strengthening
Geoscientific Information Management
Communication, Dissemination & Dialogue.
For more insights about the PanAfGeo-2, view and read the press release in the project website.