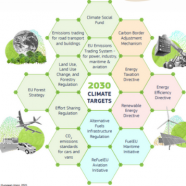 Jul

20
Tags
Related Posts
EC announces a package with legislative tools delivering 2030 climate targets
Last week, the EC circulated a new set of proposals delivering the 2030 climate change targets. Each of the proposed legislative tools and actions is leading up to a stronger EU climate policy framework, making the EU Green Deal a reality.
The adopted package of legislative tools will apply to new and existing sectors:
The ETS (Emission Trading System), which has been cutting emissions by 42.8% for the last 16 years, will be advanced to lower further down the emissions cap level while;
More actions will be undertaken on the Effort Sharing Regulation, assigning different emission target reduction for EU Member States for buildings, road and domestic maritime transport, agriculture, waste and small industries;
Member States will need to take further action for removing carbon from the atmosphere as presented in the Regulation on Land Use, Forestry and Agriculture;
An update is proposed on the Renewable Energy Directive establishing a higher target (40%) for the energy produced from renewable sources;
A higher binding target for reducing energy consumption at EU level will be provided by a new Energy Efficiency Directive;
In order to achieve zero-emissions in the transport sector, a revised Alternative Fuels Infrastructure Regulation will require Member States to expand charging capacity in line with zero-emission car sales, while the ReFuelEU Aviation Initiative will oblige fuel suppliers to blend increasing levels of sustainable aviation fuels in jet fuel taken on-board at EU airports;
Last but not least, a new Carbon Border Adjustment Mechanism will put a carbon price on imports of a targeted selection of products to ensure that ambitious climate action in Europe does not lead to 'carbon leakage' for eventually contributing to a global emission reduction process.
In order to get further information on the adopted package of legislative tools, check the European Commission press release and the official communication of the "Fit 55 package".