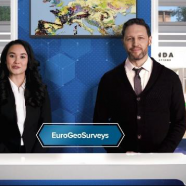 Mar

23
Tags
Related Posts
EUROGEOSURVEYS AT THE PDAC 2021 VIRTUAL CONVENTION
Brussels, 23rd March 2021
The Prospectors & Developers Association of Canada (PDAC) has wrapped up its first-ever virtual convention that happened between March 8-11, 2021, receiving positive feedback and industry accolades. The annual PDAC Convention is the premier event of the world's mineral exploration and mining industry that brings together mining executives, geologists, government officials, investors, analysts, and students from around the globe. With over 7,200 members around the world, PDAC's mission is to promote a globally responsible, vibrant and sustainable mineral sector that encourages leading practices in technical, operational, environmental, safety and social performance.
At the PDAC 2021 Virtual Convention, attendees had access to a customized platform where they could visit exhibit halls, network with colleagues, and join. This new virtual format allows attendees to continue networking by sending direct messages to other participants, engaging through text lounges, and watching educational sessions and newly added content for three months post-convention, until June 1, 2021.
View and read the full press release.