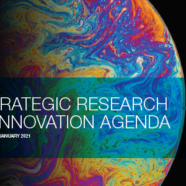 Feb

15
Tags
Related Posts
European GSOs shaping their scientific activities with SRIA
PRESS RELEASE: EuroGeoSurveys' Strategic Research and Innovation Agenda (SRIA)
Brussels, 11 February 2021

EuroGeoSurveys (EGS) – The Geological Surveys of Europe has published its Strategic Research and Innovation Agenda (SRIA). EGS, representing 38 National Geological Surveys in Europe, delineates its new research and innovation priorities through a short- and medium-term vision, with a programme of activities that will result in common pan-European projects.
This new strategic document highlights the role of the European Geological Surveys as public organizations which provide the Geoscience knowledge base needed to boost research and innovation in Europe, contributing towards the EU's ambitious targets in building a resilient society with prosperous economic growth.
In line with the European Commission's priorities for 2019-2024, this SRIA includes scientific topics within the scope of the European Green Deal, a Digital Future, an Economy that works for People and a stronger Europe in the World.
View and read the full press release.