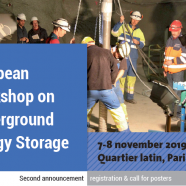 Sep

18
Tags
Related Posts
European Workshop on Underground Energy Storage
The French Geological Survey (BRGM), the ANR FLUIDSTORY project, the European Network for Research in Geo-Energy (ENeRG) in association with EuroGeoSurveys are organizing a workshop in Paris on the 7 & 8 October 2019. The workshop will focus on the critical role of energy storage in the future of energy systems and its compatibility with an environmentally friendly environment.
Subsurface energy storage represents a complex and broadly evolving field of research, as it covers multiple scales of application, a variety of end-user profiles, and different types of energy carriers. Subsurface storage capacities are present in many types of geological formations, each of which has its own criteria for identifying techno-economic viability.
The key to unveiling the full potential and effective implementation of large- scale subsurface energy storage lies in the integration of geological knowledge, engineering solutions, market economy information and a comprehensive analysis of the entire energy system. Close cooperation between all actors from science, industry and policy areas is therefore essential to a successful development.
The objectives of the workshop are to discuss current technological status and research needs for the development of the subsurface energy storage technologies, and exchange with energy producers and consumers who need energy storage solutions.
For more information on the workshop, registration and call for posters, read carefully the draft of the 2nd announcement of the workshop.