How to shape EU Energy Policy so as to boost European Competitiveness?
Successful participation of EuroGeoSurveys (EGS) to the High Level Conference on "How to shape EU Energy Policy so as to boost European Competitiveness?" that took place the 17th November 2014 at the European Commission.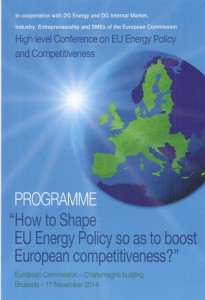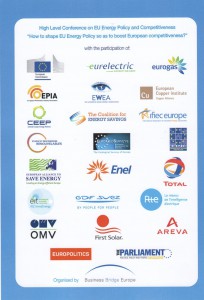 The EU Energy Union is shaped in such a way as to guarantee, not only security of supply for all consumers, but also stable and affordable energy prices for European  businesses.
The main political decision-makers and industry CEOs together high-level representatives of national and European institutions, research centers, academics and civil society discussed all the crucial and sensitive components of an EU Energy Union that is able to contribute to boosting European industrial competitiveness: economic, financial and technological conditions required to develop renewable energy and other domestic energy resources in order to reduce European dependence on third-country suppliers; development of infrastructure and internal as well as cross-border interconnections; overhaul of national practices on energy levies, tax components of energy prices and network costs; completion and improvement of the functioning of the EU internal energy market; moderation of energy demand and increase of energy efficiency; adjustment of the EU emissions trading system (ETS); diversification of suppliers and supply routes; etc.
In this framework, Mr. Mart van Bracht (EGS President) was invited to explain the situation in Europe on the availability conventional and unconventional fossil fuel resources to reduce EU external dependence and prevent disruptions of energy supply.
Mr. Mart van Bracht highlighted that unfortunately there is no detailed pan-European and unambiguous information about sub-surface energy resources, but a really very cautious estimate, based on information and know-how available at present, indicates that reserves of unconventional resources  equals the decrease of conventional  natural  gas reserves and resources in Europe.
Europe can still supply a serious part of its energy needs by using its own sub-surface resources. It is however questionable if this can be done in an economically and environmentally sound way. There is still a lot unknown about potential reserves and resources of geo-energy resources in Europe and the economical and environmental impact of the production of these resources.
At the moment, about 75% of European energy consumption comes from fossil resources and only 10% from renewable sources. On average about 55 % is imported, while about 35 % of natural gas and 60 % of solid fuels – coal and lignite – is coming from European resources and there are enough for more than 100 years of consumption.
This means, taking in account the energy goals of the EU for 2030 (27% of renewable energy), that Europe still needs fossil fuels the coming decades. The natural gas export is expected to grow. Europe's dependency on import of natural gas is related to the potential reserves and resources of unconventional resources.
The renewable sources could be "reasonably" exploitable economically, socially and financially. However, in the case of geo-energy resources, Mr. van Bracht affirmed that the production in Europe has huge implications. Despite there are interesting opportunities for geo-thermal energy, the potential amount of produced geo-energy is expected to be limited. On the other side, the use of coal and lignite has a large impact on CO2 emissions and it should be avoided as much as possible or should always be combined with CCS.